Electric Locomotive FS E 656 "Caimano" (Cayman)
Rivarossi started to deliver the prototype of this model with running number E 656-001, in near simultaneous with the entering in service of the real locomotive. The first batch of these locomotives entered service with only reference to the group class (E656) as the contest that was to give it its running name, has still not been issued.
Subsequently with the adoption of its official name "Caimano" on the locomotive already in running service, and those ready for delivery the Logo of the "animal" (in this specific case a ferocious devourer of kilometers) was applied.
Therefore the production of the prototype with running number E656-024 with its classic aluminum border trimming of the windshields, and the application of the Logo of the « Caimano » on the side of the Loco.
A locomotive that could not be missed by the collectors. The model has working headlights, with automatic inversion of lights depending of direction of travel, and switch for either overhead power pick up, or track power source.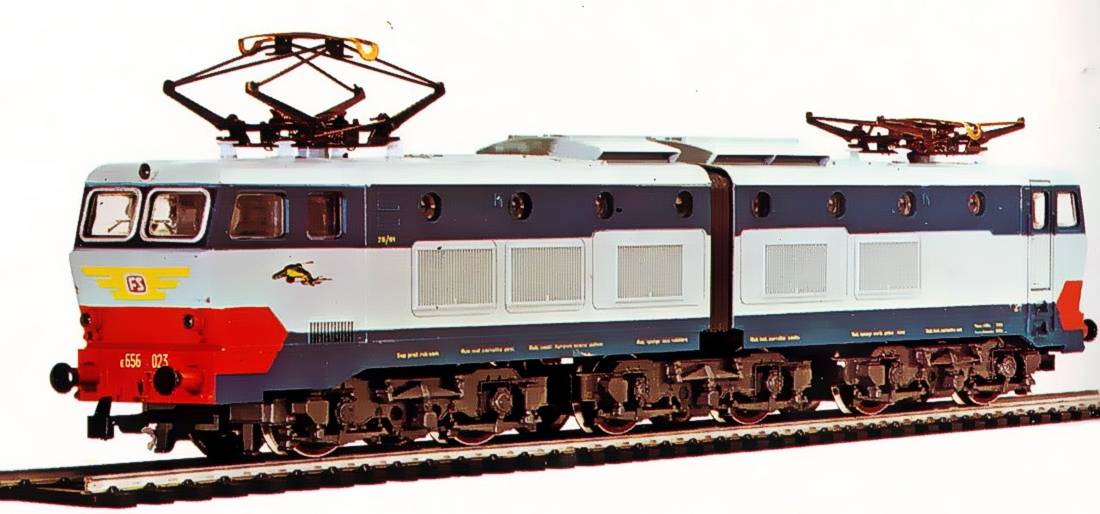 Length of the model cm. 22,7.
Produced by Rivarossi from 1973 until 1986
| | | |
| --- | --- | --- |
| code | year | description |
| | | |
| 1453 | 1973 | Electric Locomotive E 656 023 "Caimano" FS |
| 1453/1 | 1975 | Electric Locomotive E 656 023 "Caimano" FS |
| 1459 | 1979 | Electric Locomotive E 656 024 "Caimano" FS |
| 1459/1 | 1986 | Electric Locomotive E 656 024 "Caimano" FS |